the question
Where do you go to church?
WE believe this is the wrong question ... a question that misses the point!
You cannot 'go' to something you 'are!' We who are in Christ, ARE the church, the body of Christ! He is the head, not the pastor or priest. He gathers His people in groups as small as 2 or 3!
By confusing attendance at a gathering as the working out of one's faith, is to miss the power of the Jesus life.
We are an association of people who believe that simple church expressions such as house churches and marketplace gatherings can be rich environments in which seekers can discover the bible and learn who Jesus is, and then experience the potential and privilege of what it means to be a disciple, a follower of Jesus.
Jesus came to earth to reveal the good news of the Kingdom of God, where the rule of God in the hearts of people can change lives, families, neighbourhoods and the world!
We believe that the body or Christ organically flows like a river through formats as diverse as large congregations and as small as a group of friends and neighours in a living room, expressing the 'one anothers' of scripture and the dynamic of leadership we see in Ephesians 4:11-12 all under the gudiance of God's spirit.
Jesus Communities
Plant your own ...
"Plant your own garden, eat your own tomatoes."
I can't remember where I heard that phrase, but it strikes me as very relevant to the way we in the West think of doing church. We have been groomed on 'consuming' a weekly diet of polished, professional and predictable patterns that we call 'church.' We shop around until we find the fellowship that 'fits us' best.
This sometimes carries over to the house church environment. Many are looking for a home or workplace fellowship, having left the congregational scene. But, they leave as consumers, not builders.
We are not a registry for such fellowships. Nothing to consume here. In fact, we encourage you to plant your own fellowship. Start with 1 or 2 others or a few. That is where the learning begins. This is where a missional lifestyle meets the world. It begins with going deeper with Christ, prioritizing a life of discipleship, following Him!
We live in a day where the church in the building is being replaced by the church in relationships, as ilustrated by the first generation of Christ followers described in the book of Acts. It is a quiet movement in the West, and the only option for many countries in the East and around the world. Institutional and congregational church, with its clergy-laity paradigm is setting into the sunset. A new generation of Jesus people are emerging whose mission is to know Christ and to make Him known.
Warmly,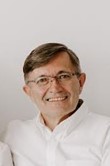 Ross Rains, Director
London, Ontario